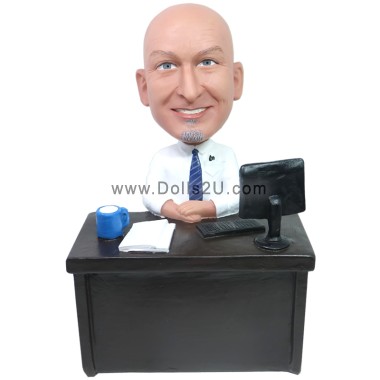 Best Boss's Day ideas: Custom Boss Bobblehead Gifts

[55312]
$79.90

I just received my custom bobblehead. I have not yet had a chance to give it to the person it was made of/for, but I couldn't wait to write you.

This bobblehead is simply amazing! It looks EXACTLY like my boss. Even the outfit is something he's seen in regularly. Our company logo printed on the chest and the lettering on the foundation look wonderful! I'm really excited to give this gift to my boss for our company anniversary. He's done so much for me and I have been hard-pressed to figure out something to give him to show my appreciation other than just words. I hope he loves it as much as I do! I'll be sure to let you know if he does.

Thank you so much, Aggie! This bobblehead was worth every penny and you were so wonderful to work with. I couldn't recommend Dolls2U highly enough. This is legit. You may see all of these great testimonials and think it's BS, but it's not. This is the real deal and as someone who works incessantly, I'm just blown away by Aggie. She does all of this by herself, it seems. I don't know how she does it.
Date Added: 09/06/2017 by Casey