Is it possible for you to do ...?
Yes, If you can imagine it, we can make it. Just give us your detail comments and photos, we can sculpt anything as long as you can imagine. see our fully comstomized section.
Also for the Past Sample Bodies, We can change the clothing colors, remove/add extra item such as sunglasses and hats.
What payment options do you offer? Are they really safe and secure?

We offer payment by PayPal and all types of credit/debit cards. We don't process or collect any of your sensitive financial information on our website but re-direct you to 100% secure and safe third-party processors, like PayPal.com. The highly secured servers of these specialized processing companies process millions of transactions daily and we can guarantee that your financial information (such as credit card numbers) will be 100% safe.
How to use credit card payment?
Paying at PayPal without a PayPal account
Payments are made at PayPal, but you do not need to own a PayPal account to pay: you may enter your credit card's data directly at PayPal and complete your payment. You don't need to register a PayPal account either.
Once you get redirected to PayPal, just do as follows:
Choose your bank country and enter your bank card information.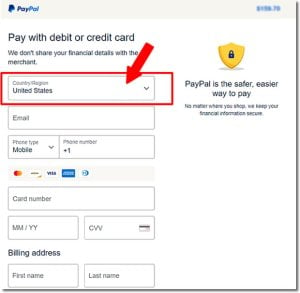 Do not Select "Save info & create your PayPal account"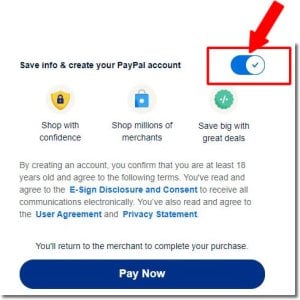 Click "Pay Now"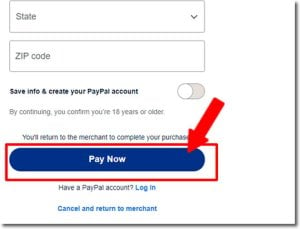 PayPal Verified
Our payment system has 2048 bit encryption and secure servers which enables you to make your payment with complete confidence.
Your credit card information is not processed through or stored on our store, and no information is ever released to a third party.
How long must I wait for my bobbleheads?
There are several options for the speed of sculpting and shipping during the checkout process. We offers a market-leading turnaround time. We can create and deliver your bobblehead to you in less than 10 business days. The duration displayed as "Sculpting and Delivery" options are applicable for orders of a single custom doll. In most cases, we will require additional time for the creation of additional identical copies, especially if ordered in large numbers. While we offer unlimited free revisions and a complimentary proofing process, every change will require additional 2-5 business days. The sculpting time starts after all details of the project are clear and confirmed (in some cases, mock-ups are needed to specify all details before we start with the sculpting process).
What is proofing?
We will send you in-progress preview photos of your bobblehead during the creation stages. You are able to suggest changes to our artists after you have viewed these proofs. This procedure ensures that you will be fully satisfied with the final outcome.
Do you use 3D printing, or are your bobbleheads sculpted by hand?
3D printing could theoretically be used to produce dolls that have a high level of likeness. However, this would entail a full face/body scan at the producer's facilities. Processes that involve 3D printing from photos are not superior to hand-sculpting as the photos do not provide sufficient details for these machines. Dolls2u therefore uses only the most talented artists on this planet to create your bobblehead. Human artists are able to provide an artistic touch to the creation process and can even use photos that are not perfect, while still ensuring a great outcome!
Will my bobblehead look exactly like the photo?
Bobbleheads are also known as a 3D cartoonization. This means that the dolls will resemble the person in the photo but with a slight cartoon effect, which is normally added by the artist. This cartoon effect is what makes this product so popular as an amazingly funny and unusual gift. An exact replication of the person's features is not always possible, because photos sometimes fail to capture the true nature of someone's face. However, our artists will create your figurine with a very high degree of resemblance.
What materials are used?
We use Polyresin.
Most bobblehead providers use polymer clay and then they bake and mold the dolls, you even can see the maker's finger print on the dolls, and the dolls are easily broken. this material will dry out and crack after a year - all that money you spend on making a keepsake goes down the drain.
Dolls2u was the first large bobblehead company to make individual bobbleheads, and we've been making them for many years now. Dolls2u utilizes a high grade Poly Resin to make our bobbleheads, this is the same material that we use in our retail bobbleheads.
All of our materials are guaranteed to be extremely durable, non-toxic and certified in accordance with the highest possible industry standards.
What if I don't like my bobblehead? Can you redo it?
Yes. we can redo it for free if you don't like your bobblehead.
What if I don't like my bobblehead? Do you offer refunds?
Yes. We will refund your money if you decide at any time during the creation process (pre-shipping) that you don't like your bobblehead.
Please understand that due to the custom nature of our product, and due to the number of expert hours that goes in to molding, painting... refund and return base on the following conditions:
A, You may cancel your order and get full refund before we begin to custom made your bobbleheads and show you the first proofs.
B, Once we make the clay doll head:
1. We will fix it until you like it.
2. If you really want to cancel your order. We will deduct $30.00 each bobblehead and give you a refund. - Please understand that, it is a special Merchandise that we custom made for you, we cannot sell it to others.
C, After we complete the bobblehead, if you don't like it, there are two options:
1.We can redo it for free.
2.You can cancel your order. 50% of total payment refund if you really want to cancel your order - Please understand that, it is a special Merchandise that we custom made for you, we cannot sell it to others.
C, We do care about your experience to order online with us, now, you can be protected by our " "0" risk order online policy " -- If you find it not as described when you get your package in hand within 30 days, we can redo it for free, or you can send it back to us (customer is responsible for return shipping), and get refund after deducting the freight we paid.
What are standard bodies, and what is Head-To-Toe custom made?
Standard bodies are pre-made stock bodies. You can personalize them by changing a stock body's color and of course adding your head on top. We can change the color of the bobblehead bodies.
Head-To-Toe custom made bobbleheads will have not only your head but also your complete body, all sculpted based on your photos and requirements.
Why are additional identical copies so low-priced?
Additional identical copies can be very favorably priced if these identical copies are ordered at the same time as the prototype. We can use the same mold for the production which allows us to save time and therefore costs, so consider amazing additional copies for everyone!
Where can I find your bulk order prices?
Please email us at
sales@dolls2u.com
if you are looking for a very competitive bulk order quote. We operate a best price guarantee, and therefore, we will be more than happy to provide you with the best rates on the market.
Do I get a discount on shipping if I purchase multiple bobbleheads?
Yes, we will offer a discount on shipping for combine shipments.
Do you ship anywhere in the world?
Yes, we offer low shipping rates worldwide. There are no extra fees for the shipping of our products to any worldwide location! Many of our customers purchase our custom bobbleheads as gifts, often for family and friends who are living abroad. Our flat rate shipping provides a great way to save on such international deliveries.
Will I be notified when my order ships?
YES! After your order has been shipped, we will send you an email shipping notice, confirming that your package has been sent to you. The email will also provide you with a Tracking Number.
What photographs should I send?
Generally, we need just 2 good quality and clear photographs of the individual needed to be sculpted on the bobblehead - 1 front-view and 1 side-view.
The output of the bobblehead depends on the quality of the photograph. Therefore, we always recommend that the photograph should have a smiling face or with some unique facial expression. We strongly advise against sending us wedding photos or artistic photos that use soft lenses, but lack in facial details.
We accept all picture formats but prefer .JPG and .GIF files. However, should you want a head to toe full custom design, we will need a body shot or body position or pose photo.
Satisfaction and likeness of my bobblehead problems.
100% satisfaction guarantee. Proofs will be email to you for approval by each step. You can provide your opinion when reviewing the proofs, our sculptors will take your comment seriously and make the amendment the way you asked. By doing this, you can ensure the likeness of the bobblehead that you are receiving.