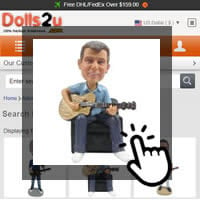 Choose & Customize
Want to amaze someone you know with a custom bobblehead? Browse the selection of our stock designs to choose a body style with incredible likeness. Not impressed? We can make a fully custom bobble head for you. Share a few photos of the gift receiver and select colors and optional add-ons.
Check it out & Tune it up
Ordering a bobblehead doll online may seem risky - what if the doll isn't what you expected to receive? Fret not! Once your order is placed, we'll send you in-progress preview photos within 6 days. Request tune-ups without additional fees if it doesn't look great enough to make you happy.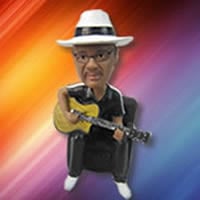 Give it another look & Receive it
We take no chances by shipping your custom bobblehead dolls without letting you see it before it's packaged. Once it's ready and bobbles carelessly, you can visually inspect it again. We'll ship it really fast if you're happy with it - from head to toe - and no adjustments are required.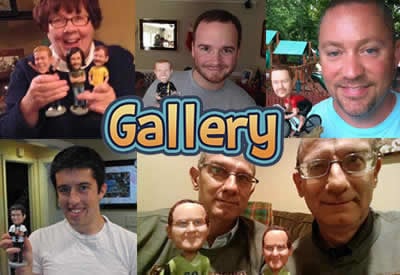 100% Satisfaction Guaranteed.
Personalized bobbleheads that take likeness to the next level
Even though there are millions of gift ideas, most of them make you bored to death. If you're going to celebrate a milestone, job promotion, wedding, or any other special occasion, an original bobblehead is what you need. Custom-designed, it'll look like the gift receiver and add fun to any event. Or you can create one for yourself to expand your collection.
Unleash your imagination and create funny bobbleheads with Dolls2u. Our artists are all ears to make personalized bobblehead figurines based on what you find amusing, pretty, or fabulous!
How to create personal bobbleheads online?
Want to have custom bobbleheads but have no idea where to start? Every unique bobblehead doll needs your personal touch, so follow our step-by-step guide on adding it:
Decide on a theme for your bobble head figurine
Who is the main hero of your story? Want a bobblehead to resemble a specific career or hobby? Make your custom bobblehead dolls in every single thing, from the gender and the outfit to the pose and its apparent love for sports, work, and more.
Upload some photos
A full-face photo will work for most bobblehead body models. But full-body pictures are required for highly personalized options. If you're looking to order bobbleheads for a couple, upload group photos to avoid confusion. You can upload them in JPG, GIF, or PDF formats right here or send them via email. Please note that each photo should be under 2Mb.
Choose colors and add-ons
When making a 3D bobblehead with a custom touch, you will get the exact copy of the person. You just need to tick the matching hair & eye colors and extra features like glasses or a hat. Plus, you can add a logo, text, or tattoo.
We can make your bobblehead figurine even more upbeat, unusual, and complete with personalized details once you share them with us. Specify them in the comment section on the customization page and upload additional pictures for the perfect result.
Special requirements for custom bobbleheads
The creation process of your bobblehead figurine involves many stages and varies depending on the photo you upload. To change something in the photos, so it doesn't make it onto your bobblehead, specify this when uploading your picturess. For example, you should be explicit about whether you want a smiling or non-smiling bobblehead that matches the person in the photo.
We use polyresin for all Dolls2u personalized bobbleheads. When heated, it allows our artisans to recreate the tiniest details on bobble head figurines, making them look 'alive.' However, once it hardens, polyresin becomes almost unbreakable. That's why, if you want your custom bobblehead dolls to be created with bigger lips or curly hair, share this at the preview stage.
How long does it take to make a bobblehead doll?
Here's something reassuring about the Dolls2u bobblehead doll shop. Once we get your photos, we'll start producing the first rough version of your doll. You'll receive pictures for approval within 4 days to make sure you're good with every detail.
We use air carrier services for prompt worldwide shipping. You can expect to get your custom bobble heads within 5-7 days if a standard delivery option works for you. If it doesn't, expedite it for an extra fee!